EDIT MAIN
Welcome to Mexia ISD ACE! We are excited to start another year of hands-on, innovative clubs to engage your students in learning. McBay and Sims campuses both have their own ACE Site Coordinator again this year!
A.B. McBay Elementary – Chelsea Collins, ccollins@esc12.net, (254) 562-4030 ext. 5029
R.Q. Sims Intermediate – Jami Archer, jarcher@esc12.net, (254) 562-4025 ext. 4630
In order to receive the most up to date information about the ACE program please sign-up for Remind today!! Simply text 1 MISD Virtual ACE, code is MISDACE to join. Once you register you will receive updates from the program and be able to contact the Site Coordinators directly.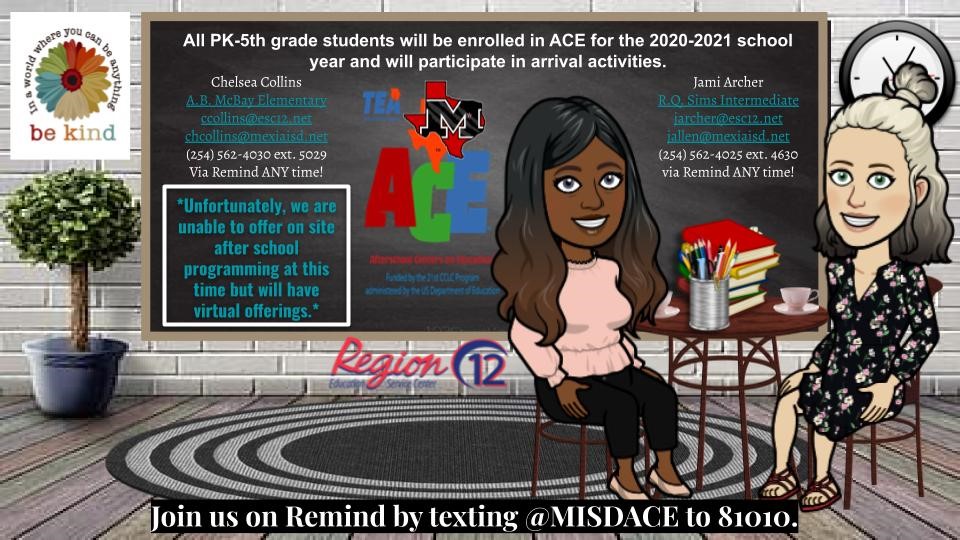 Meet the Site Coordinators
Welcome! My name is Chelsea Collins and I work for Region 12 Education Service Center and serve Mexia ISD as the McBay Elementary ACE Site Coordinator. ACE is an afterschool and morning program designed to provide students something fun, educational, and engaging to do during critical hours in communities that need it most. This is my second year in this position and my third year in education. I'm excited about the 2020-2021 school year!
I graduated from Mexia High School in 2013 and furthered my education at Sam Houston State University. After graduating SHSU in May 2017, with a Public Health degree, I took a year off to reflect on my passion, which later reflected education. In 2018, I taught 7th grade in Arlington, TX, and it was an advantageous experience. July 2019, I decided to return to Mexia and I accepted the job as the McBay ACE Site Coordinator. There is nothing like the sense of community Mexia has to offer, and I missed that during my time away. I love being able to see family, friends, and previous teachers every day. I look forward to an amazing school year.
My name is Jami Archer. I am employed by ESC Region 12 as the ACE Site Coordinator for R.Q. Sims Intermediate, Mexia ISD. As such, I oversee the program at Sims Intermediate School. I can be reached by phone at (254) 562-4025 ext. 4630, or by email at jarcher@esc12.net. My office hours are 10:00 a.m. until 5:00 p.m., Monday thru Thursday, and 10:00 until 2:00 on Fridays.
A little information about myself: I am a 1999 graduate of Mexia High School. I received my Bachelor's Degree from Texas A&M-Commerce in May of 2009. I have one son, Bryce, who is a 2017 graduate of Mexia High School, and a 3 year old daughter, Rhyan.
Prior to becoming the ACE Site Coordinator in 2014, I was employed by Mexia ISD as a 1 st grade teacher for 5 years. I am honored to have the opportunity to provide the ACE program for the 3rd thru 5th grade students of Mexia ISD. I want to work with you to make this the best year for your child!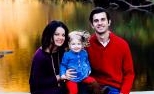 Reserve ACE Resources for Use in Your Classroom