Attention Blackcat Nation If you are interested in getting the 1st round of the COVID-19 Vaccine Aug. 26 at the MISD Administration building, please contact MISD at 254-562-4000 before the end of the day Monday, Aug 23. Ages 12 and up are eligible at no cost. #othersfirst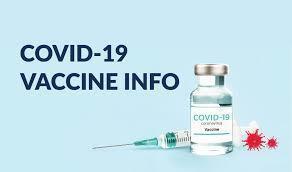 Tomorrow is Blackcat Appreciation Day. Let's show our Blackcat Pride and wear Mexia T-shirts tomorrow.

While campuses open at 7:00 a.m., the bell to start classes at each campus is listed below: McBay: 8:00 a.m. RQ Sims: 8:10 a.m. Mexia J.H.: 7:30 a.m. Mexia H.S.: 7:50 a.m. #othersfirst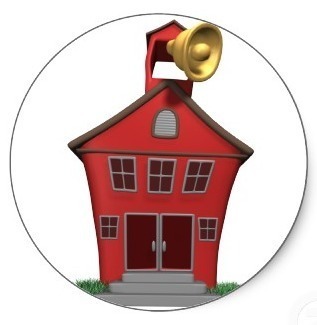 Tomorrow is the 1st day of the 21-22 School Year! All campuses' doors open at 7:00am. We look forward to welcoming everyone back! #othersfirst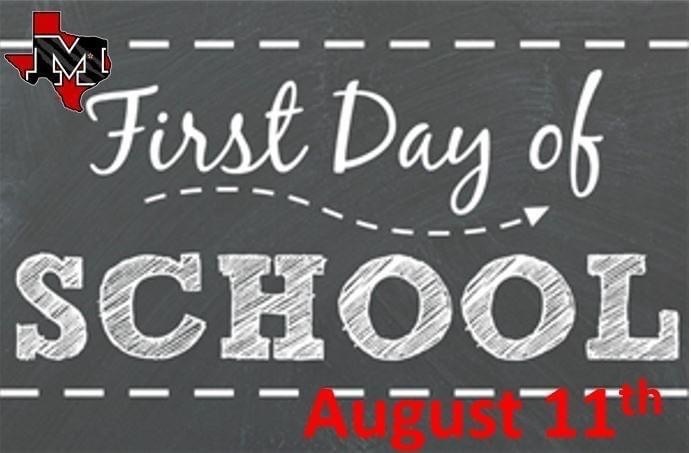 Get a great night sleep little Blackcats. We have a wonderful and busy day planned for tomorrow. Parents, we will have plenty of staff ready to help your child find their classroom in the morning. Staff will be waiting eagerly to help all our students. Parents, you may walk with your child to their classroom the first day of school if you wish. After tomorrow, we ask that you will no longer walk your child to class in order to ensure the safest and most effective learning environment. Please send a water bottle with your child. It's going to be a wonderful school year. We are one team, with one vision, and 100% Blackcats!

Blackcat Nation - All campuses welcome students back on Wednesday, August 11th. Meet the Teacher is tonight for McBay, RQ Sims and Mexia JH. Hope to see everyone there. #othersfirst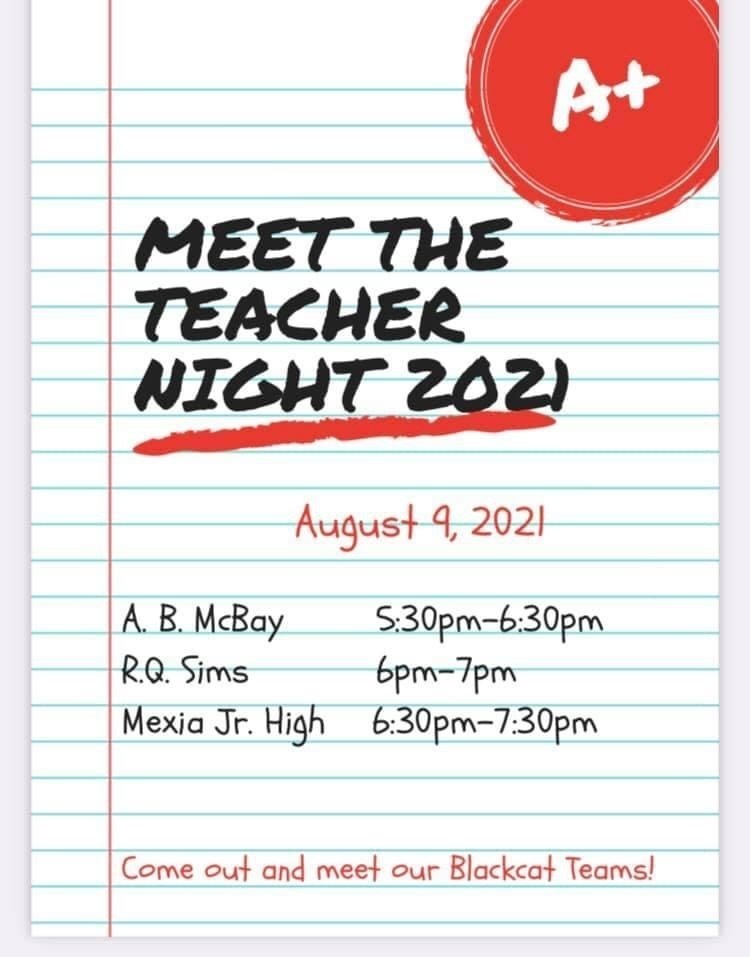 Greetings Blackcat Nation! MISD can't wait to see our students! The first day of school is August 11th. School supplies are provided for students in PK-5 and Mexia CARES is helping with MJH. It's going to be an AMAZING year! #othersfirst

Registration is now open for the 2021-2022 school year for returning MISD students. Please register your students by August 6th.


Covid Vaccine Information-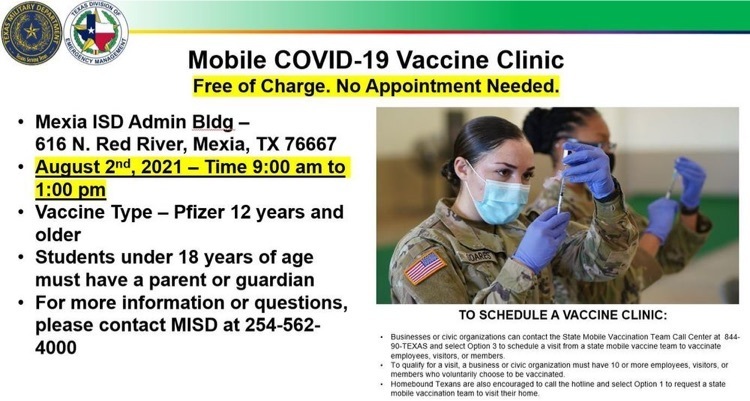 MISD welcomes all new faculty and staff who will begin the 2021-2022 school year with us. Reminder, all professional staff (teachers, counselors, etc) will report to the MJH Cafetorium for New Teacher Orientation beginning at 8 am on Aug 2. We can't wait to see you! #othersfirst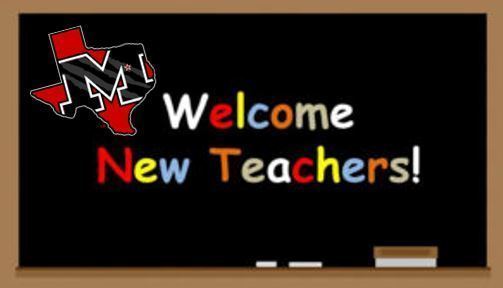 Just a reminder: New students to Mexia ISD will need to complete their enrollment paperwork online for the 2021-2022 school year. All returning students will once again need to update their current information online for the 2021-2022 school. All of those links can be accessed on the Mexia ISD page under the Menu option, Student Enrollment and Withdraw links.

Some of our littlest Blackcats had fun at the Cameron Park Zoo in Waco today. What a great learning adventure!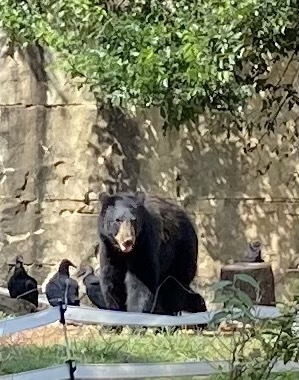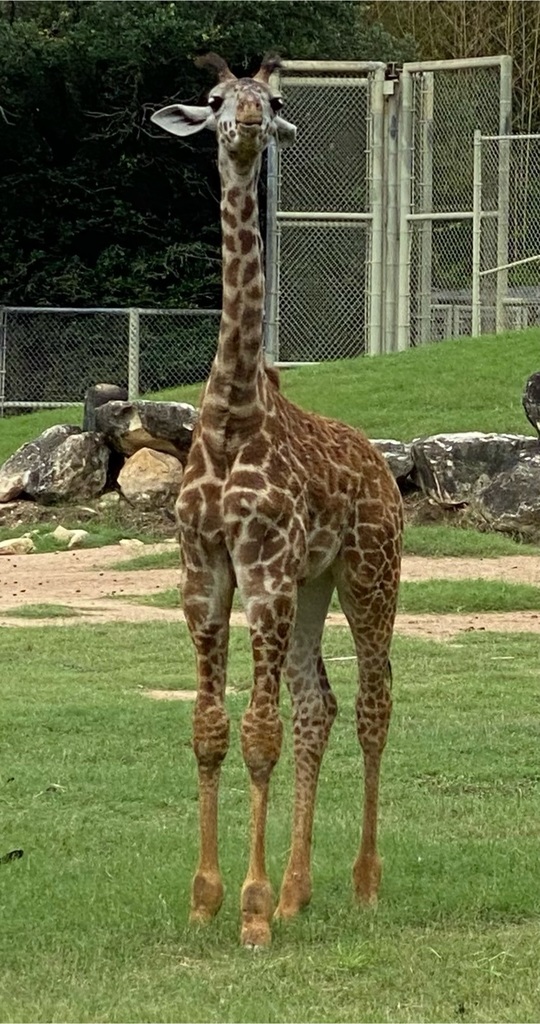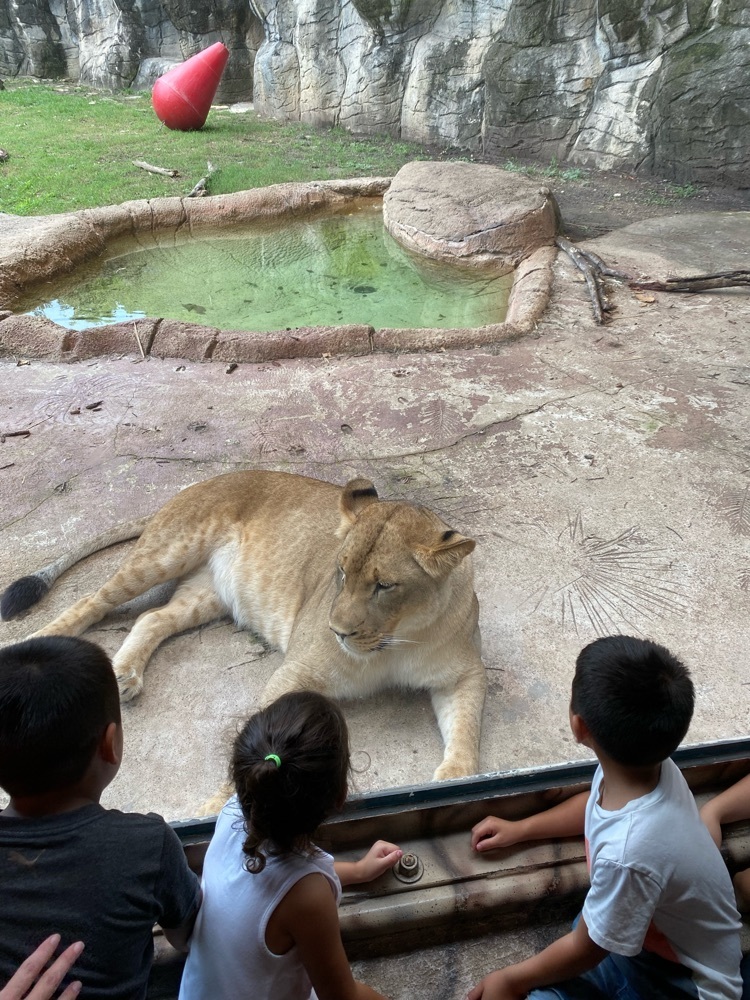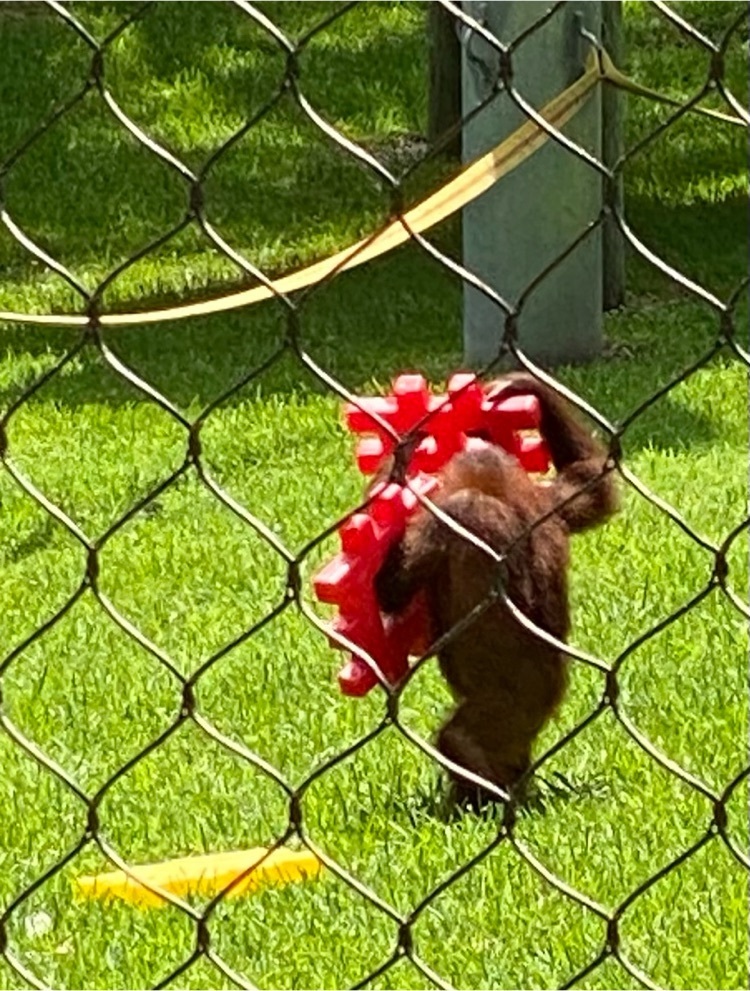 Mexia Blackcat Parents - MISD is requesting your input about the student dress code for the 21-22 school year. If you are interested in participating, please complete the very short survey found at the following link:
https://forms.gle/WHLaULN3Ku1A3VDH9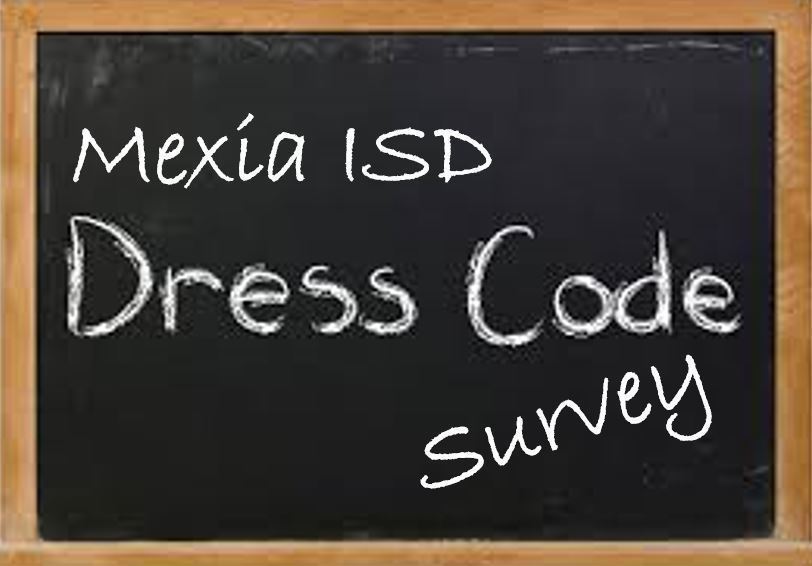 Congratulations to our kindergarten blackcat graduates!! #MexiaThrive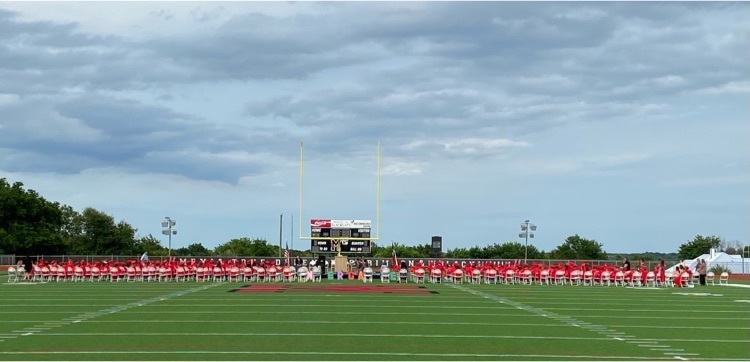 In order to meet our minute requirements, McBay PreK students' dismissal time will be at regular time, 3:45 PM , starting on Monday, May 24th. We appreciate your patience at canopy next week.
REMINDER: All entries are due tomorrow for our book character pumpkin decorating contest. Winners will be announced November 3rd!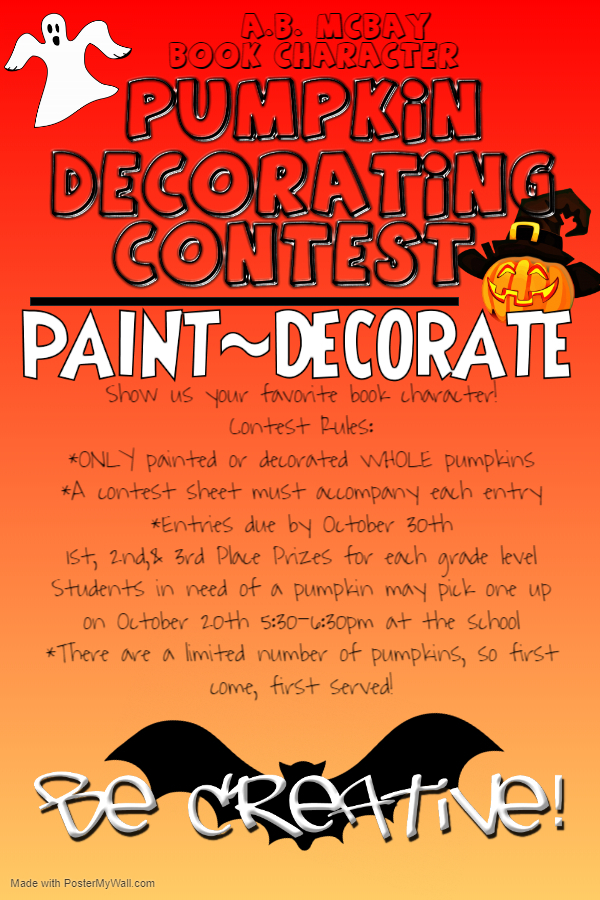 Plan to join us on Tuesday, 5:30-6:30pm for the pumpkin giveaway sponsored by ACE. All entries for the pumpkin decorating contest are due by Oct. 30th!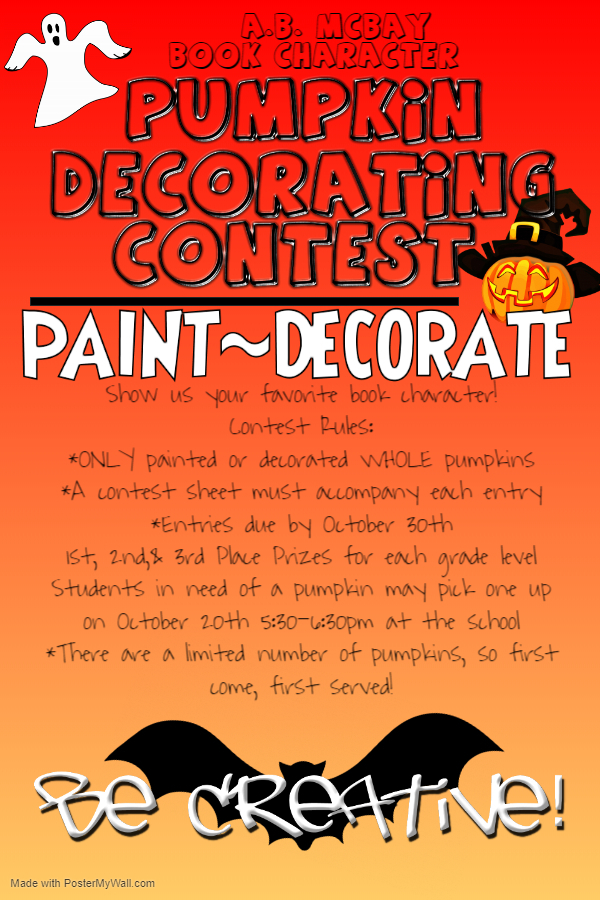 Join in on the fun of our pumpkin decorating contest! On Tuesday, October 20th, 5:30-6:30, our ACE coordinators will be giving out pumpkins and decorating materials. Books will also be given out to spark inspiration. Supplies are on a first come basis.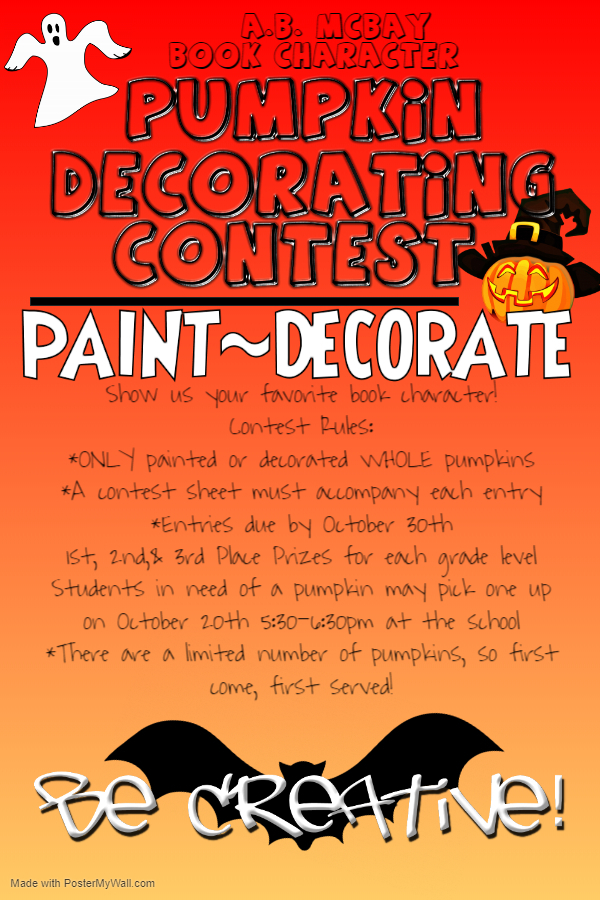 Tomorrow, Oct 6th, is the last day to let us about your choice of instructional setting - Face to Face or Remote for the 2nd 6 weeks. Changes will be implemented on Oct 13th. Please call our office (254) 562-4030 if you are planning on making changes.
Good morning, A.B McBay! You will find two brief videos on our A.B McBay Facebook page that Mrs. Crosby prepared to explain a little bit about our Title One/ Parent and Family meeting we are having tomorrow in the parking lot in front of McBay at 6:00 pm. Your involvement and support is essential to our growth as a campus. Thank you for all you do. To help us keep track of parent involvement, please comment "watched" in the comment section after you have viewed the videos. Your input is appreciated. Please email
hcrosby@mexiaisd.net
with additional questions or input.