At this time, Mexia ISD will allow regular backpacks. The district is taking additional steps for safety and security. Thanks for your continued support!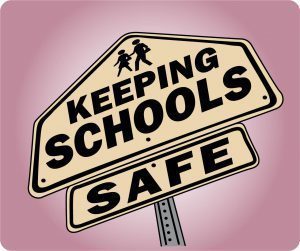 SAVE THE DATE: Meet The Teacher is Monday, August 8, 2022 McBay: 5:00-6:00 Sims: 5:30-6:30 MJH and MHS: 6:00-7:00 We can't wait to see all our Blackcats back!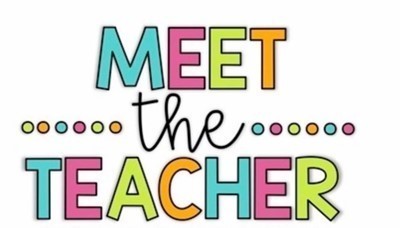 Happy New School Year Blackcats! New students should be enrolled online and ALL existing students registered online by August 1. If you need computer access or assistance, the District Office Computer lab will be open next week on Tuesday, July 26 from 11-12, Wednesday, July 27 from 2-6 and Thursday, July 28, 11-2. NEW students can bring enrollment documentation to the district office during those hours or the respective campus the following week when campus registrars return from summer break. Please email
misdregistration@mexiaisd.net
with questions. Thank you for the preparation of a great school year!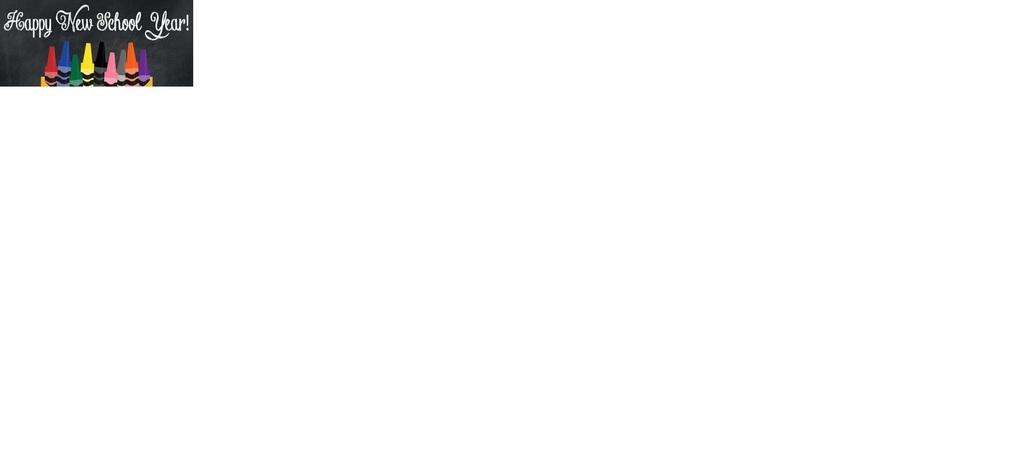 Good afternoon Blackcats, Last month I shared with you that the MISD Board of Trustees approved increasing the district contribution towards employee insurance from $275/month to $400/month. I also shared that they were considering additional employee benefits as the budget will allow. This is more than a good news update email, it is a GREAT news update email! Last night the Mexia ISD Board of Trustees demonstrated their commitment to our district by taking decisive action for ALL employees of our district. After several months of consideration and evaluating multiple options, the list of compensation and benefits below was unanimously approved: * Increasing the annual number of local leave days from 3 to 5 for ALL employees * ALL employees receive 10 additional days of leave for absences due to covid without using "normal" local and/or state days (just like last year) * ALL employees will now get 50% discount on cafeteria meals, breakfast and lunch; MISD will cover the other half * 4.5% raise for all non-instructional / auxiliary staff not on the teacher payscale * Longevity pay--The Mexia ISD school board wants to convey their belief that consistent service to our district is critical to student success. The chart below shows, in five year increments, the stipend amounts for years of service to Mexia ISD: 5 years--$1,000 10 years--$1,500 15 years--$2,000 20 years--$2,500 25 years--$3,000 30 years--$3,500 35 years--$4,000 40 years--$4,500 45 years--$5,000 In this first year of implementation, every MISD employee that has passed one of these 5-year thresholds will be paid on that number of years of service (example: 8 years of service in MISD the employee will receive the 5 year stipend this year, then receive the 10 year stipend two years later.) It is difficult to convey all the details in an all-user email; however, I will present this information in person during inservice and explain better (with more examples) how this longevity pay works. These will be paid in September. This is a TREMENDOUS statement of the MISD Board of Trustees' support for our employees! Also, your administrative team has worked extremely hard to identify these additional benefits while simultaneously ensuring that the district remains fiscally sound. Mexia ISD is already a fantastic place to work, and our Board continues to put action with their beliefs, boldly proclaiming their devout commitment to what makes our district such an awesome place to work: YOU!! It's a great day to be a Blackcat! Be sure to thank your board members and administrators the next time you see them! What an awesome place to work!!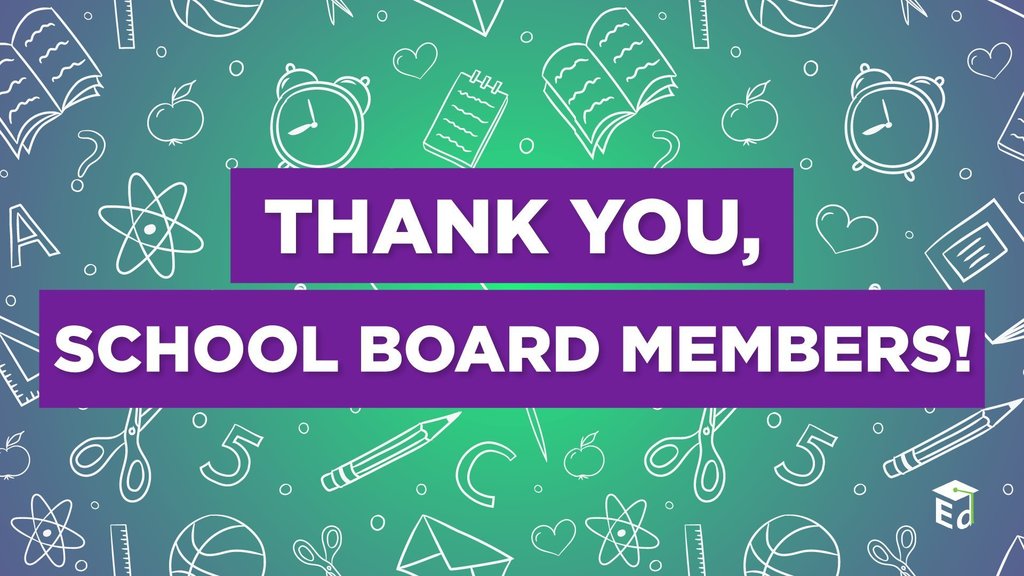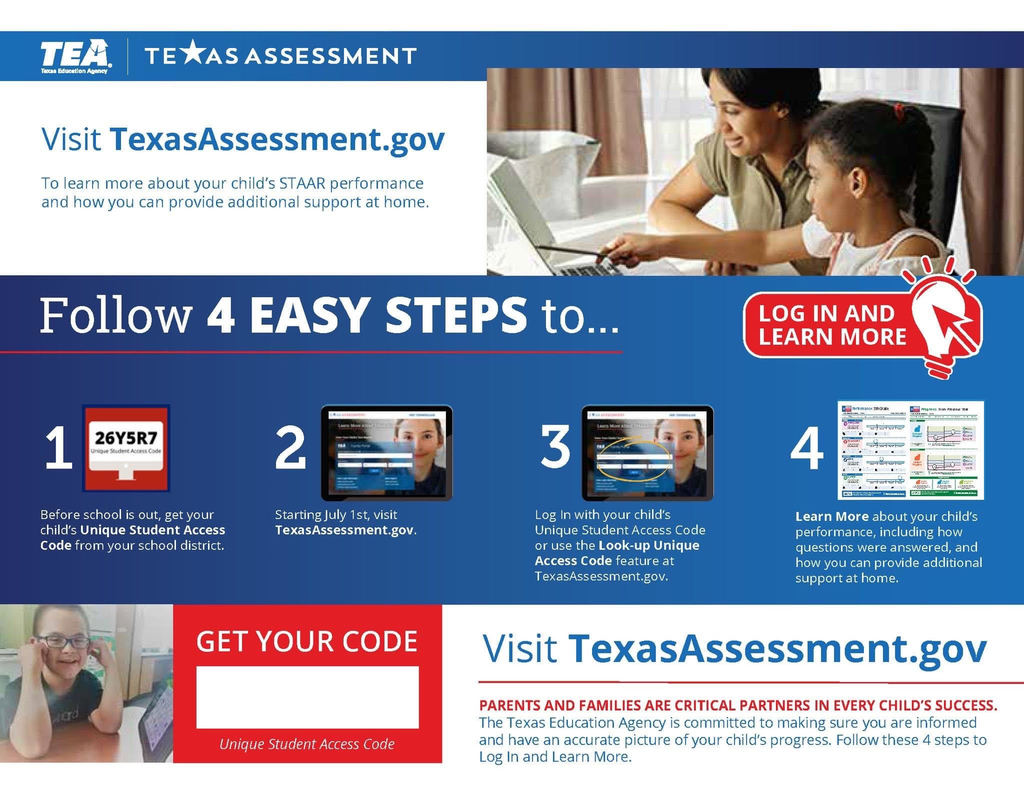 Good evening Blackcats, Tonight the Mexia ISD Board of Trustees voted to increase the District contribution for employee health insurance from $275/month to $400/month for the upcoming 2022-2023 school year. This is a HUGE statement of their support for our employees! Mexia ISD is a fantastic place to work and tonight the Board made a bold statement of their commitment to our staff! They are considering additional employee benefits as the budget will allow, so more good news may be coming in the the next few weeks. It's a great day to be a Blackcat! And be sure to thank your board members the next time you see them!


Good afternoon Blackcats, In observation of Emancipation Day, Mexia ISD will be closed tomorrow, June 20, 2022. Summer school classes will resume at normal time on Tuesday, June 21, 2022. The board meeting scheduled for tomorrow night will be rescheduled to June 27, 2022. Stay safe!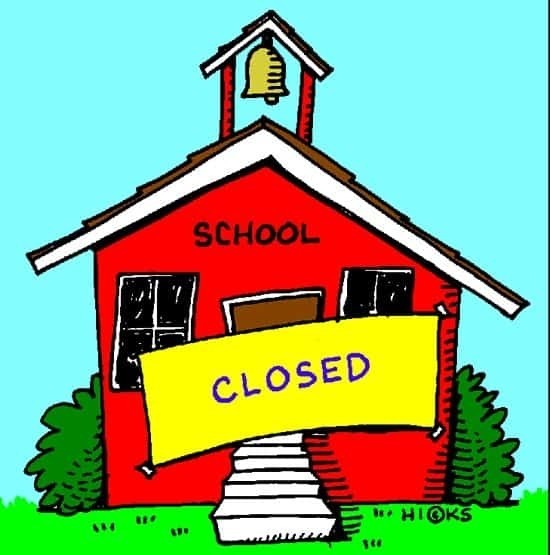 Mr. Appleton attends safety meeting with state and national leaders.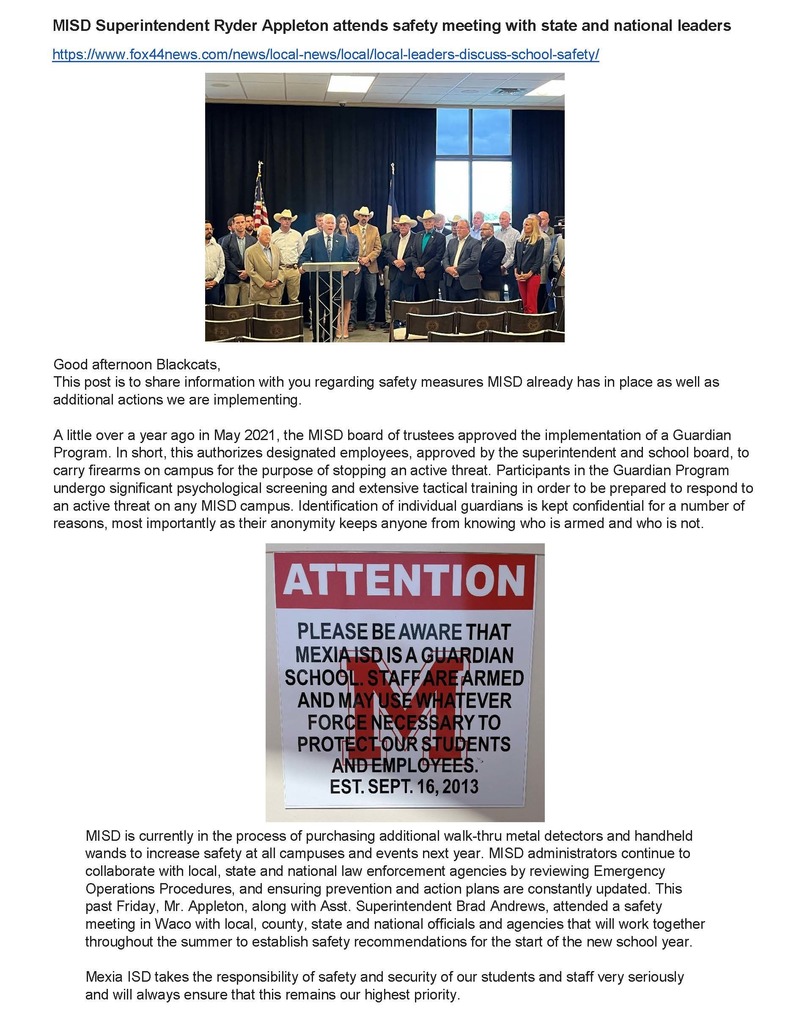 MISD Superintendent Ryder Appleton Attends Safety Meeting with State and National Leaders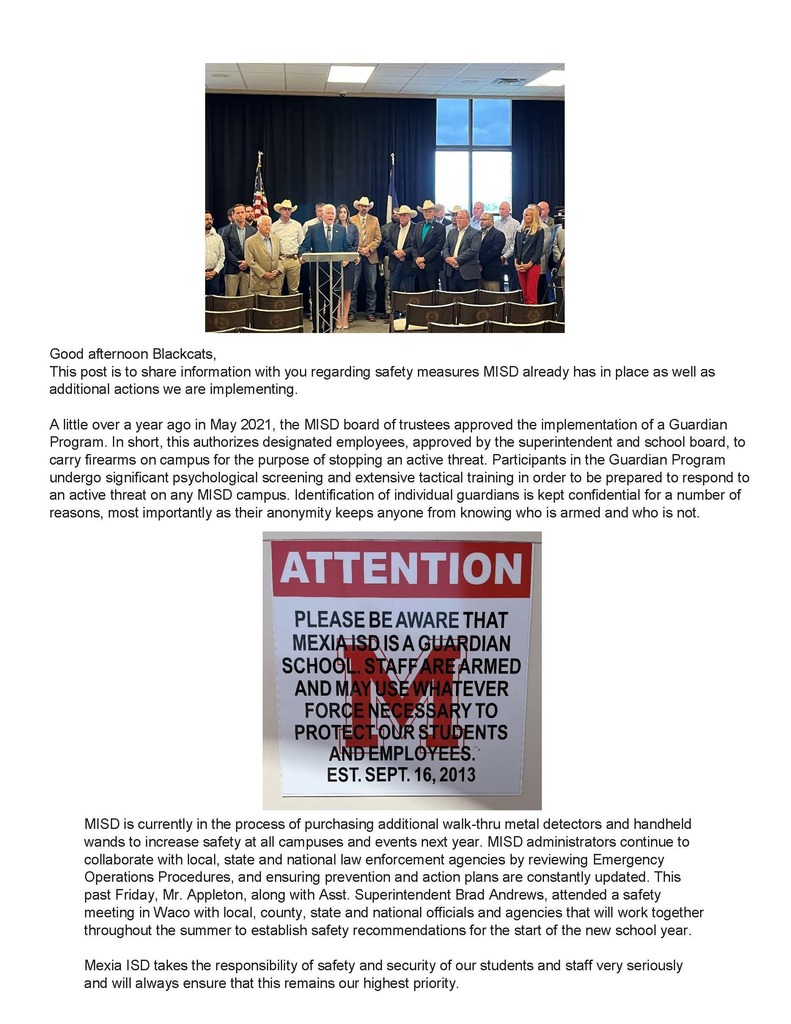 Mexia ISD Summer Hours


Good morning Blackcats, Here are some reminders for graduation tonight. Stadium entry may take longer than normal due to safety measures, so arrive early. Gates open at 5:30 and everyone will pass thru a metal detector and is subject to search. No bags of any kind permitted such as purses, backpacks, gift bags, etc No knives of any kind No vapes / lighters / tobacco Graduation will begin at 8:00pm sharp Thank you for your cooperation as we are prioritizing everyone's safety for tonight.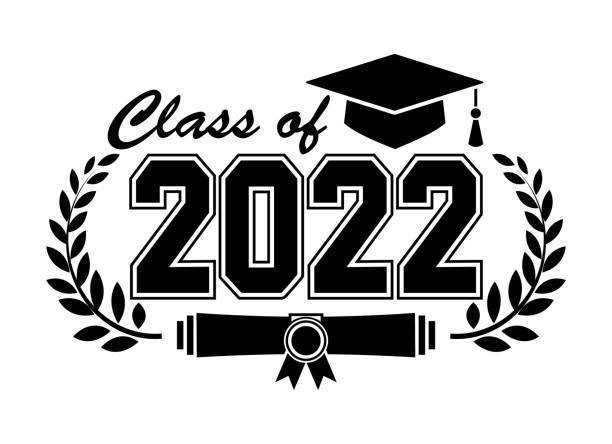 To all parents and guests: The kindergarten graduation will be at MHS gymnasium on Thursday, May 26th at 6:00pm. NO backpacks, bags, or purses will be allowed at the ceremony. Also parents, please bring your golden ticket with you that was sent home with your child. This will be needed when you pick up your child after the ceremony.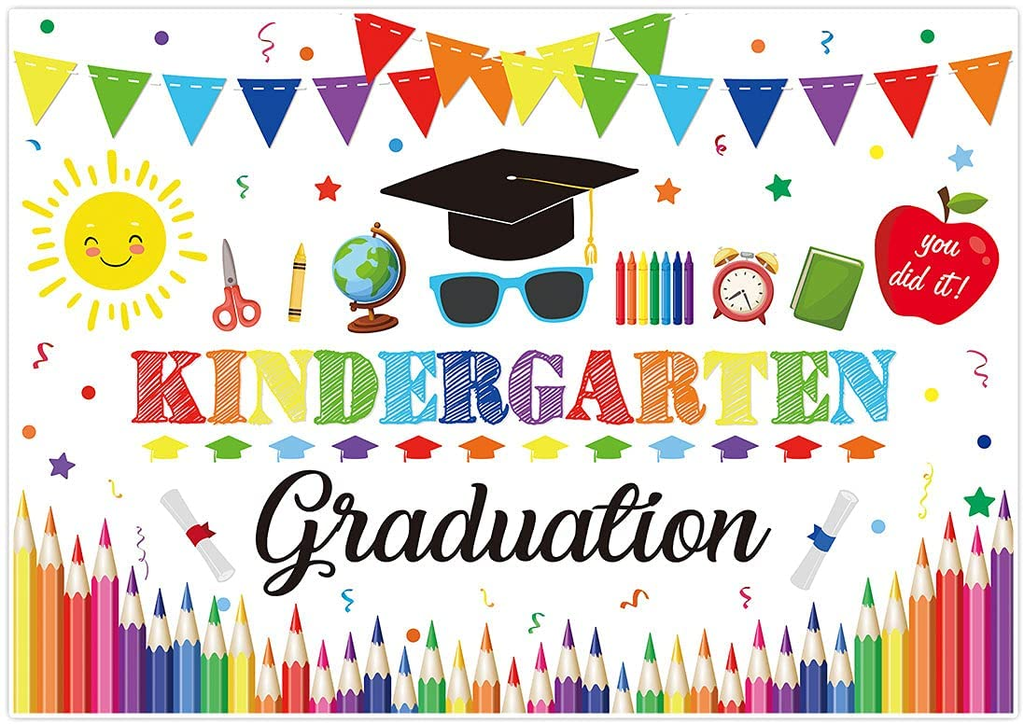 Mexia High School Graduation Information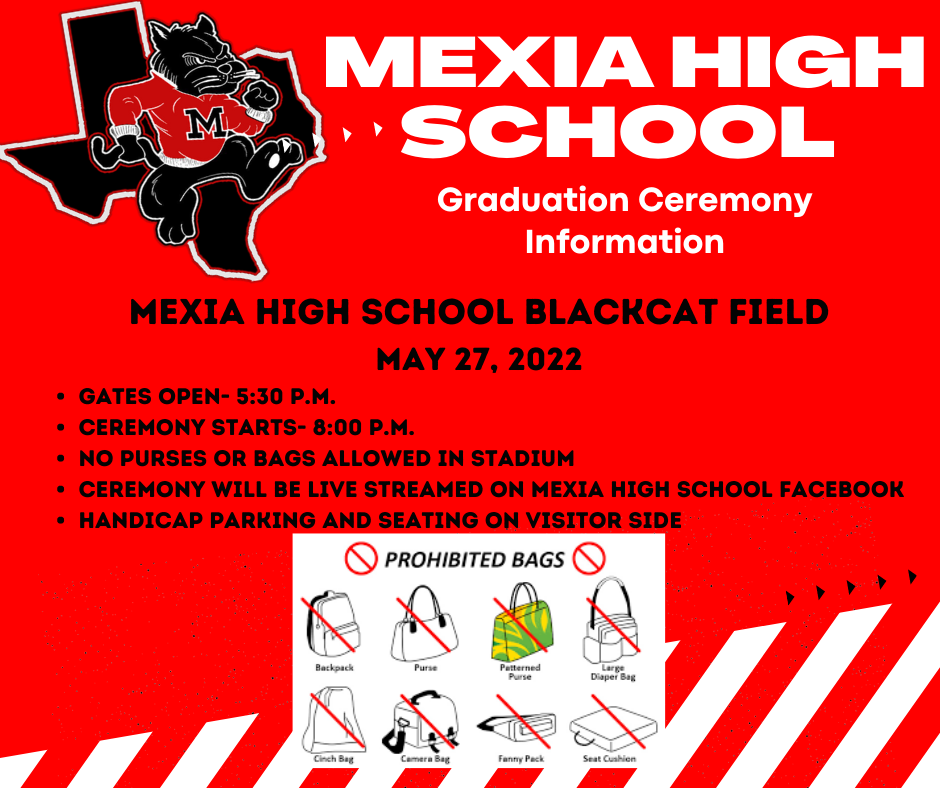 REMINDER: Tuesday, May 24th is a full day of instruction. All campuses will dismiss at normal dismissal times.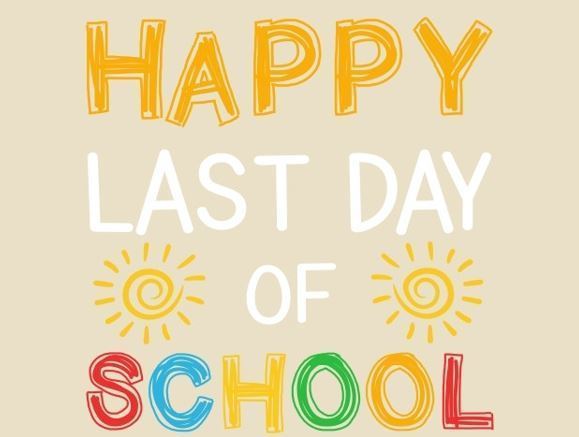 May 17, 2022 4:45pm For Immediate Release The City of Mexia and Mexia ISD previously provided a joint release on an incident that occured at Mexia High School on May 16, 2022. In summary, at approximately 11:20am on May 16, 2022, Mexia ISD staff and law enforcement responded to reports of a "loud bang" in a restroom. The campus was placed on immediate lockdown, as well as all other MISD campuses. The actions and response by both MISD staff and the City of Mexia Police Department resulted in the safe, effective and immediate recovery of a weapon. A person of interest was identified and detained by law enforcement within minutes. Law enforcement continued to sweep the entire campus to verify that all occupants were safe and that there were no additional potential threats. No injuries were reported. MISD campuses conduct safety and security drills on a regular basis and law enforcement commended staff on the speed and effectiveness with which the campus accomplished lockdown. In the best interest of student safety, MISD conducted an early dismissal of all campuses under the direction of law enforcement. Multiple law enforcement agencies and other first responders collaborated and executed dismissal of students in the safest manner possible. While this process was slower than normal dismissal procedures, the efforts were conducted with deliberate intent, accounting for each student individually. Law enforcement agencies along with MISD staff conducted a comprehensive search of the building last night, followed by a canine unit. After repeating this process again today, as well as investigators examining the scene, law enforcement determined the campus is safe and has authorized the district to return to normal use and activities effective as of this afternoon, Tuesday, May 17, 2022. The junior high band concert will be conducted this evening in the high school auditorium at 6:00pm as scheduled. Mexia ISD is proud of the patience exhibited by students and staff as these procedures were carried out. This was a challenging time for all involved. MISD staff made a diligent effort to meet all potential student needs during this time such as prioritizing special health needs and providing water to students waiting on buses. In the hours following this incident, campus administrators continued collaborating with Mexia PD to locate and make personal contact with parents of any students who had not been accounted for. Without exception, every single student was safe and accounted for. In conclusion: All students were safe and accounted for with no injuries MISD has increased security measures at all campuses MISD would like to express appreciation for the multiple law enforcement agencies who responded, including: Mexia Police Department, Mexia Fire/EMS Department, Limestone County Sheriff's Office, McLennan County Sheriff's Office, Freestone County Sheriff's Office, Texas DPS Troopers, Groesbeck Police Department, Wortham Police Department, Teague ISD Police Department, Fairfield ISD Police Department and the Bureau of Alcohol, Tobacco, Firearms and Explosives. As always, the safety and security of our students and staff will remain the top priority for Mexia ISD.

Mexia ISD is lucky to have the best teachers around! This week and everyday we hope you know how much MISD appreciates you!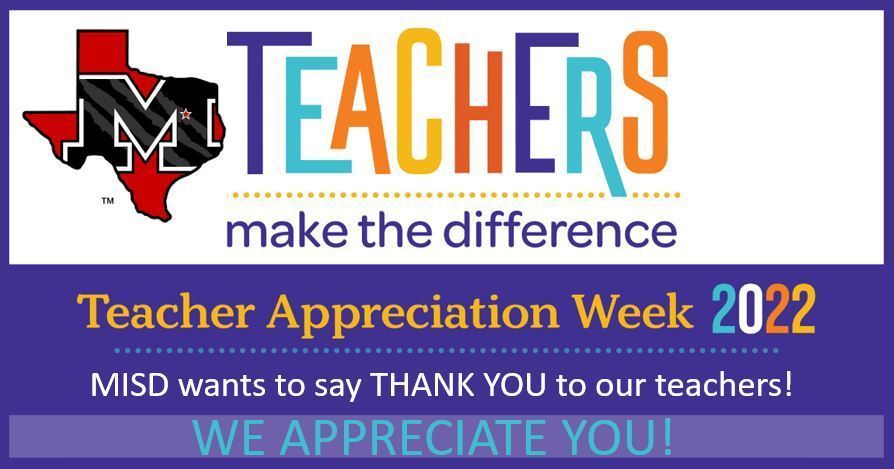 Good afternoon Blackcats, Beginning tomorrow, Tuesday, April 26, 2022 Mexia ISD is reopening schools to allow outside guests. Covid numbers have been consistently low for a period of time now and we believe it is safe to once again welcome authorized visitors (parents, grandparents, etc.) back to our campuses. Please be sure to follow appropriate safety and sign-in procedures per campus requirements. State standardized (STAAR) testing will begin next week on various campuses for the next couple of weeks and visitors will not be allowed on those campuses on those particular days.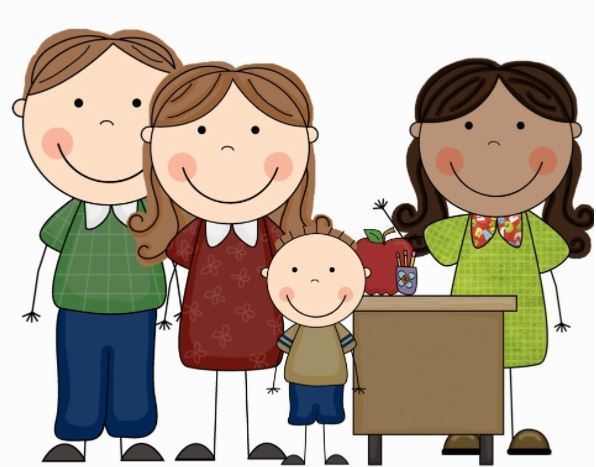 Join us for Fine Arts Night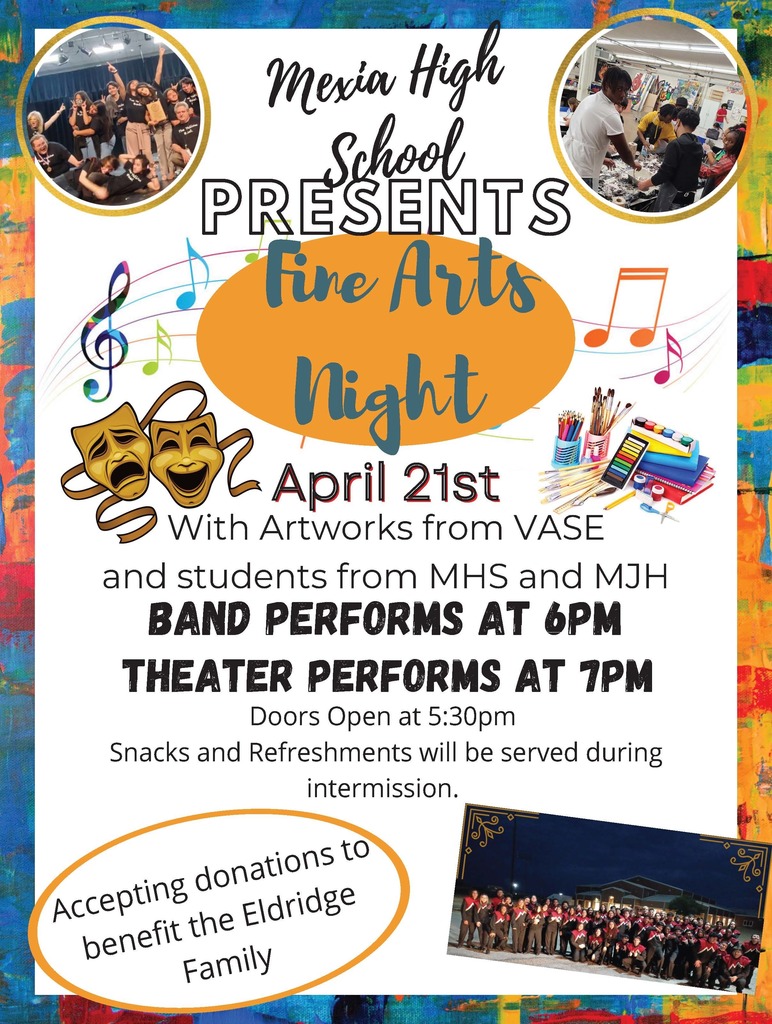 No School Friday, April 15th & Monday April 18th. HAPPY EASTER!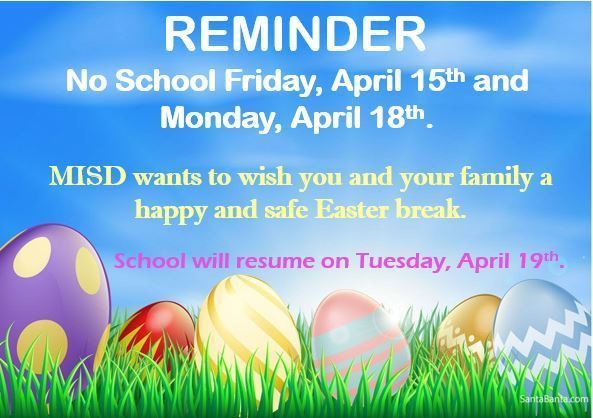 2022-2023 Prekindergarten/Kindergarten Roundup!